Bouquets are great for many different occasions, but sometimes, that special someone is worth going the extra mile for. A
gift basket
will definitely take you that distance: filled with presents, food, and small surprises, a carefully curated basket can be the best way to show appreciation, express condolences, or just enjoy at a party. We make a great selection of baskets that fit any and every occasion, but here are just five of them!
The Gift Needs To Be Extra Thoughtful
A gift with good intentions will always be welcome, but a gift that's just good is one that has some additional thought behind it. It's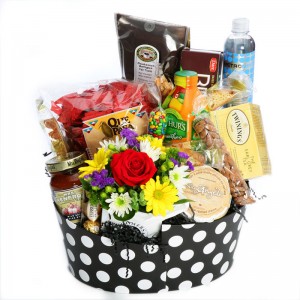 something you know the recipient will love and remember forever. This is why gift baskets, selected with your recipient in mind, are always thoughtful: they're the complete package. Be it flowers, food, drink, or small gifts, these baskets have something for everyone, and will cover both interests and needs!
You Need Something Last Minute
Everyone forgets to get a gift at some point. It's not always because of a faulty memory; life is busy and stressful! We won't judge. We will, however, cover for you and make sure that your last-minute gift is thoughtful and memorable. It's why Bloomers offers same day delivery – just place your order online before 1 pm!
It's A Special Night In
Girls night is a sacred, all-too-rare event for many women. Kicking back with a bottle of wine, a cheesy rom-com, and your best gal pals is the ultimate way to spend a Friday night. What better way to add some much-needed fun and comfort than with a gift basket? Our fun baskets, like Perfect Mix, Sweet Tooth, and Over the Top, have all the things you'll need for the perfect night in. With our same-day delivery, you can invite our baskets to the party even if your plans are last minute!
Note: our baskets are great for a guy's night, too!
You're Looking To Buy Local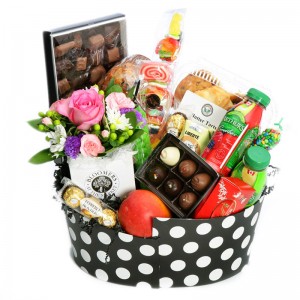 Do you need a gift for a budding locavore? Where it comes from can add a little extra flair to any gift, and when it's locally made, it really is more special. Bloomers gift baskets are locally made, of course, but they're also chock full of items hand-picked from the London community!
Speaking of hand-picked, the flowers we use in our baskets come from our shop in the Covent Garden Market.
You're Stuck On That Special Someone
Everyone has that hard-to-buy-for person in their life, and sometimes a bouquet of flowers isn't their style. Luckily, our gift basket selection has something for everyone! Bloomers baskets combine our freshly-cut flowers with wonderful speciality food and gift items, many of which are local, all of which work together to make for an impressive gift.